ANYTONE AT-D578UV PRO DMR/FM DUAL BAND CON VFO,ROAMING E PTT BLUETOOTH
Codice Prodotto: ANYATD578UVPLUS
Disponibilità: In magazzino
ANYTONE AT-D578UV PLUS
PTT BLUETOOTH Radio Dualband DMR/FM con VFO & ROAMING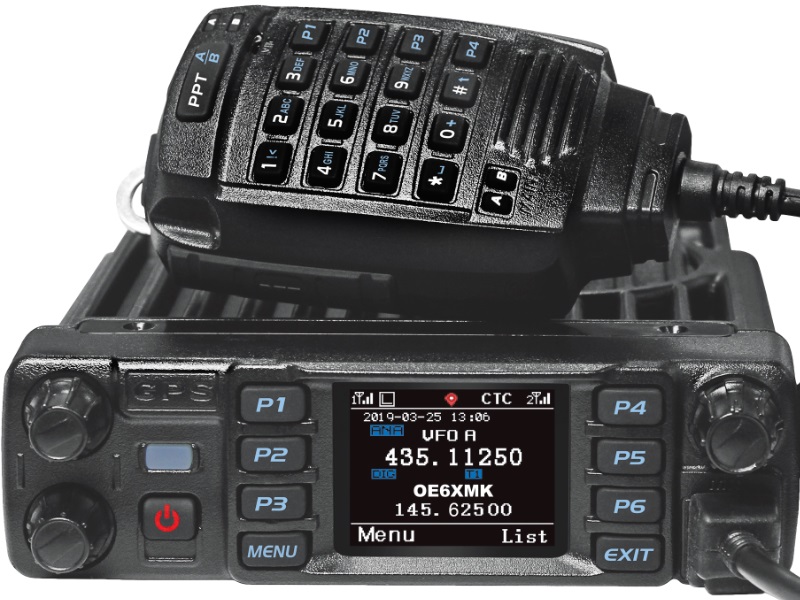 L'Antone AT-D578UV-PLUS è una vera radio a banda TWIN per sistemi radio DMR digitali, compatibile con MOTOTRBO Tier 1 e 2. L'FM tradizionale è ovviamente ugualmente supportata. A differenza di molte altre radio DMR, l'AT-D578UV offre vere operazioni VFO, il che lo rende molto più adatto alla radio amatoriale. Qui puoi regolare la frequenza e altri parametri come sei usato dalle radio tradizionali, invece di usare solo memorie pre-programmate. Ovviamente l'AT-D578U offre anche memorie, parecchio: 4000 per la precisione. Ma non sei limitato a quei canali di memoria. Un'altra differenza rispetto alle altre radio DMR è la possibilità di modificare la maggior parte (purtroppo non tutti) i parametri del ricetrasmettitore. Ciò è utile in quanto non è necessario collegare un computer per ogni minuto di modifica delle impostazioni. Tuttavia, per accedere e modificare davvero tutte le impostazioni è ancora necessario il software di programmazione CPS e un PC.
Nuovo AT-D58UV non è solo una "radio portatile D878UV con più potenza" in un case mobile. Oltre alle note funzioni come APRS in FM (tx wise) e al roaming digitale e alla nuova opzione Bluetooth, AT-D578UV-Plus offre ora la possibilità di ricevere contemporaneamente un DMR e un canale analogico, una vera doppia. Naturalmente puoi anche ricevere contemporaneamente due canali analogici. Per una facile impostazione, ciascuna delle due bande ha il proprio controllo del volume, che sono assegnati a un VFO ciascuno.
La potenza di trasmissione può essere impostata su quattro livelli, max. la potenza è di 50 Watt su 2m VHFamd 45 W su UHF 70 cm.
L'ulteriore serie di funzioni del D578UV è molto ampia. È possibile memorizzare fino a 4000 canali diversi (anche digitale e analogico, anche misto); È possibile configurare 10000 gruppi di conversazione e la memoria può contenere fino a 200.000 contatti digitali. Pertanto il database utente DMR completo in tutto il mondo può essere memorizzato nel dispositivo. Nella modalità analogica, sono supportate funzioni come DTMF, CTCSS e DCS oltre alla codifica con segnali bicolore e 5 toni. È disponibile anche una raffica di toni di 1750 Hz. Un totale di 10 pulsanti sulla radio e sul microfono può essere assegnato a funzioni individuali, consentendo agli utenti di impostare le proprie preferenze personali. La luminosità del display a colori da 1,77 "e dei tasti retroilluminati sull'unità e sul microfono può essere regolata in più fasi, garantendo così una leggibilità ideale anche alla luce del sole e un funzionamento senza abbagliamento durante la guida al buio.
La funzione di roaming di AT-D578UV è indipendente dalla posizione del dispositivo. Durante il roaming, il sistema controlla se un ripetitore è raggiungibile da un elenco predefinito e lo imposta automaticamente se necessario. Il trigger per il roaming può essere un avvio manuale o l'informazione che il ripetitore impostato non è (non più) raggiungibile. I canali di roaming possono essere suddivisi in zone, analogamente ai canali convenzionali, che corrispondono ad esempio alle regioni geografiche.
Un'altra caratteristica da sottolineare è la possibilità di memorizzare diversi ID DMR. Quindi sarebbe ipotizzabile utilizzare il dispositivo sia in un ambiente radiofonico aziendale professionale che in seguito con un ID diverso nella radio amatoriale. Oppure diversi membri della famiglia condividono un dispositivo. L'Anytone AT-D578UV è dotato di un ricevitore GPS, i dati di posizione possono essere trasmessi via radio (DMR-APRS e FM-APRS). Il dispositivo ha anche un connettore per un'antenna GPS esterna. L'AT-D578UV è un dispositivo TWINband per 2m (VHF) e 70cm (UHF), su entrambe le bande è possibile lavorare in analogico in FM o digitale in DMR. È anche disponibile un ricevitore WFM per la banda radio FM. Il collegamento dell'antenna è una presa PL. Il cavo di programmazione (USB / Micro-USB) è incluso nella fornitura; l'ultimo software di programmazione e firmware è disponibile gratuitamente su www.anytone.de o sul sito Web del produttore.
Anytone AT-D578UV-Plus
Zoom

Caratteristiche di Anytone AT-D578UV-Plus
Display LC a colori da 1,77 pollici
Tastiera numerica sul microfono, 10 tasti configurabili liberamente
TWINband 2m / 70cm (V / U, V / V, U / U)
SE larghezza canale selezionabile 12,5 / 25 kHz (analogico) o fisso 12,5 kHz (DMR)
Digitale: DMR (Tier I / II) e FM analogici
Ricevitore WFM 87,5 - 108 MHz
Fino a cinque ID DMR programmabili
4000 memorie, 10000 gruppi di discussione, 200000 contatti digitali
250 zone (banchi di memoria) programmabili
Visualizzazione di ID (nominativo), posizione e paese del partner QSO
Sono disponibili due timeslot, tutti i codici colore disponibili
Trasmettere potenza 5, 10, 25, 45 (UHF) / 50 (VHF) Watt
Selezione automatica della modalità analogica / digitale
Tonalità scoppiata a 1750 Hz
Squelch di tono: CTCSS, DCS
Segnalazione toni: DTMF, 2 toni, 5 toni
Ricevitore GPS
Nuovo ricezione simultanea analogico / digitale o analogico / analogico
Nuovo Molti parametri APRS configurabili su radio, senza computer
Registrazione e riproduzione del segnale ricevuto (solo DMR)
Nuovo Roaming (selezione del ripetitore raggiungibile da una lista pre-programmata)
Funzione VOX
Nuova interfaccia Bluetooth
Controlli di volume individuali per VFO
Volume di consegna AT-D578UV-Plus
Anytone AT-D578UV
Modulo Bluetooth integrato
Tasto PTT Bluetooth esterno
Microfono palmare con tastiera numerica e tasti su / giù
Staffa di montaggio e supporto Mobil
The Antone AT-D578UV-PLUS is a true TWIN band radio for digital DMR radio systems, compatible to MOTOTRBO Tier 1 and 2. Traditional FM is of course equally supported. In contrast to many other DMR radios the AT-D578UV offers real VFO operations, which makes it much more suitable for amateur radio. Here you can adjust frequency and other parameters as you are used from traditional radios, instead of just using pre-programmed memories. Of course the AT-D578UVoffers thse memories as well, quite a lot: 4000 to be precise. But you are not limited to those memory channels. Another difference to other DMR radios is the possibility to modify most (unfortunately not all) parameters of the transceiver. This is useful because you do not need to hook up a computer for each minute change in the settings. Nevertheless, to access and modify really all settings you still the need the CPS programming software and a PC.
The AT-D58UV is not just a "D878UV hand held radio with more power" in a mobile case. Besides the well known functions like APRS in FM (tx wise) and digital roaming and the new Bluetooth option, the AT-D578UV-Plus now offers the possibility to receive a DMR and an analog channel at the same time - a true twinbander. Of course you can receive two analog channels simultaneously as well. For easy setting each of the two bands has it's own volume control, which are assigned to one VFO each.
The transmit power can be set in four levels, max. power is 50 Watt on 2m VHFamd 45 W on 70cm UHF.
The further feature set of the D578UV is very extensive. Up to 4000 different channels can be stored (digital and analogue, mixed operation also possible); 10000 talk groups can be configured and the memory holds up to 200,000 digital contacts. Thus the complete worldwide DMR user database can be stored in the device. In analog mode, functions such as DTMF, CTCSS and DCS are supported as well as coding with two-tone and 5-tone signals. A tone burst of 1750 Hz is also available. A total of 10 buttons on the radio and microphone can be individually assigned functions, allowing users to set their own personal preferences. The brightness of the 1.77" colour display and the backlit keys on the unit and microphone can be adjusted in several stages. This guarantees ideal readability even in sunlight and glare-free operation while driving in the dark.
The roaming function of the AT-D578UV is independent of the position of the device. When roaming, the system checks whether a repeater is reachable from a predefined list and automatically sets it if necessary. The trigger for roaming can be a manual start, or the information that the set repeater is not (no longer) reachable. The roaming channels can be divided into zones, similar to the conventional channels, which correspond for example to geographical regions.
Another feature to highlight is the possibility of storing several DMR IDs. So it would be conceivable to use the device both in a professional company radio environment and later with a different ID in amateur radio. Or several family members share a device. The Anytone AT-D578UV is equipped with a GPS receiver, the position data can be transmitted by radio (DMR-APRS and FM-APRS). The device also has a connector for an external GPS antenna. The AT-D578UV is a TWINband device for 2m (VHF) and 70cm (UHF), on both bands you can work either analogue in FM or digital in DMR. A WFM receiver for the FM radio band is also available. The antenna connection is a PL socket. The programming cable (USB/Micro-USB) is included in the scope of delivery; the latest programming software and firmware is available free of charge at www.anytone.de or on the manufacturer's website.
Features of the Anytone AT-D578UV-Plus
1.77 inch colour LC display
Numbers keyboard on microphone, 10 freely configurable keys
TWINband 2m/70cm (V/U, V/V, U/U)
IF channel width selectable 12.5/25 kHz (analog) or fixed 12.5 kHz (DMR
Digital: DMR (Tier I/II) and analog FM
WFM receiver 87.5 - 108 MHz
Up to five DMR IDs programmable
4000 memories, 10000 Talk groups, 200000 digital contacts
250 Zones (memory banks) programmable
Display of ID (Callsign), location and country of QSO partner
Two timeslots available, all colour codes available
Transmit power 5, 10, 25, 45 (UHF) / 50 (VHF) Watt
Automatic mode selection Analog/Digital
Tone burst 1750 Hz
Tone squelch: CTCSS, DCS
Tone signalling: DTMF, 2 tone, 5 tone
GPS receiver
simultaneous reception analog/digital or analog/analog
Many APRS parameters settable on radio, without computer
Recording and playback of received signal (DMR only)
Roaming (selection of reachable repeater from a pre-programmed list)
VOX function
Bluetooth interface
Individual volume controls per VFO
Volume di consegna AT-D578UV-Plus
Anytone AT-D578UV
Bluetooth module built in
External Bluetooth PTT key
Handheld microphone with number keyboard and up/down keys
Mobil mounting bracket and assorted hardware
DC cable with fuse
USB programming cable
Spare fuses
Scrivi una recensione
Nota: Il codice HTML non è tradotto!
Punteggio: Negativo Positivo
Inserisci il codice nel box di seguito: